旅夜书怀
(唐)杜甫
细草微风岸,危樯独夜舟。
星垂平野阔,月涌大江流。
名岂文章著,官应老病休。
飘飘何所似?天地一沙鸥。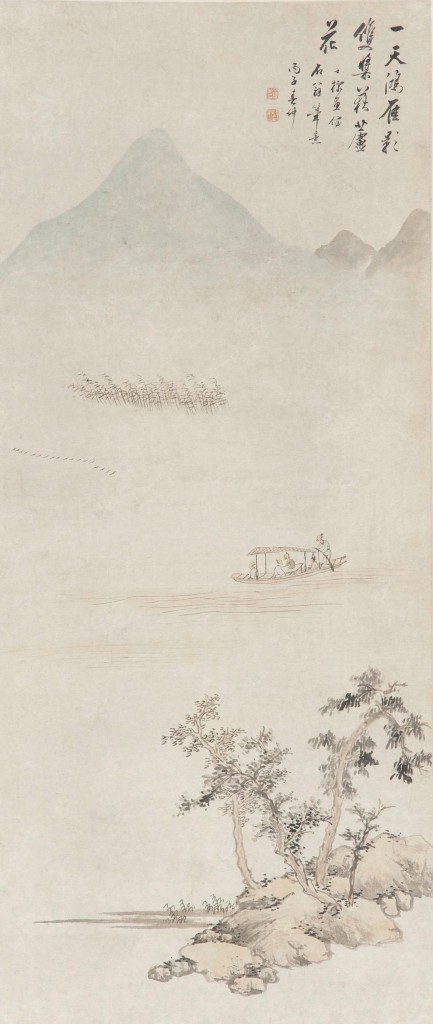 清,查士标,仿沈周山水,121.3 x 52 cm,美国弗利尔美术馆藏
Landscape in the Style of Shen Zhou
Maker(s) Artist: Zha Shibiao, 1615-1698, Qing dynasty (1644 – 1911)
Medium: Ink and color on paper
Dimensions: H x W (image): 121.3 x 52 cm (47 3/4 x 20 1/2 in)
Data Source: Freer Gallery of Art and Arthur M. Sackler Gallery
Night feelings While Travelling
A poem by Du Fu /Tr. by Guodong
Breezing the slenderly grassy shore,
Floating a lonely boat with looming mast.
Stars droop over the vast plain,
The moon gushes from the grand river current.
My reputation shall not rely on my writing,
As an old sick man, I should retire from my position.
What likeness is my fluttering life?
A gull of sands wandering between heaven and earth.
Du Fu (杜甫; 712 – 770) , Tang dynasty (唐 618–907)
Lǚ yè shū huái
(Táng) Dù Fǔ
Xì cǎo wéifēng àn, wēi qiáng dú yè zhōu.
Xīng chuí píngyě kuò, yuè yǒng dàjiāng liú.
Míng qǐ wénzhāng zhù, guān yīng lǎo bìng xiū.
Piāo piāo hé suǒ shì? Tiāndì yī shā'ōu.