曲池荷
(唐) 卢照邻
浮香绕曲岸,圆影覆华池。
常恐秋风早,飘零君不知。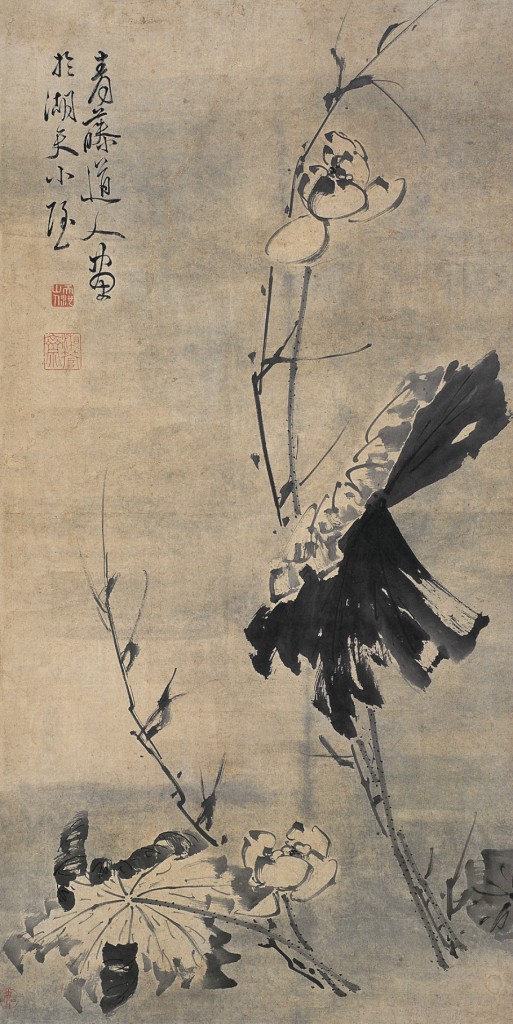 艺术家:明,徐渭 (1521–1593)
标题:墨荷
日期:16世纪
形式:立轴 ,水墨纸本
尺寸: 101×51厘米
款识:青藤道人画于湖天小屋。
钤印:[天池山人] [湘管斋]
Artist: Xu Wei (1521-1593), Ming (1368-1644)
Title: Lotus
Date: 16th century
Form: Hanging Scroll, Ink on Paper
Size: 101 × 51 cm
Inscription: Ivy Taoist paints in the Lake-Sky cabin.
Seals: [Tianchi Hermit] [Xiang Guan Zhai]
The Lotus in the Flexural Pool
(Tang) Lu Zhaolin / Tr. Guodong
Floating fragrance fluttering around the flexural shore, round reflections covering the gorgeous pool.
Being afraid the autumn wind blows early, I will drift away but you never see.
Qū chí hé
(Táng)  Lú Zhàolín
Fú xiāng rào qū àn, yuán yǐng fù huá chí.
Cháng kǒng qiūfēng zǎo, piāolíng jūn bùzhī.