Feng Huang Dan Cong, aka phoenix oolong tea, comes from Mount Feng Huang of Chaozhou city in northeast Guangdong Province, China. "Feng Huang" means "phoenix", and "Dan Cong" means "single bush". This tea is one of China's major oolong teas, a type of specific partial-oxidized tea including Wuyi Rock Tea, Anxi Tieguanyin, and Bergamot Tea. Feng Huang Dan Cong tea has an exceptionally long brown-green leave that curled into loose spirals. When brewing, the tea produces a sparkling orange color with a honeyed taste and a strong scent. With a rich tradition that goes back over 900 years, this type of tea has truly magnificent aromas and unique flavors that come from volcanic soil. In total, there are different varietals of Feng Huang Dan Cong and ten typical aromas for the flavors, which will be explained in details in this article.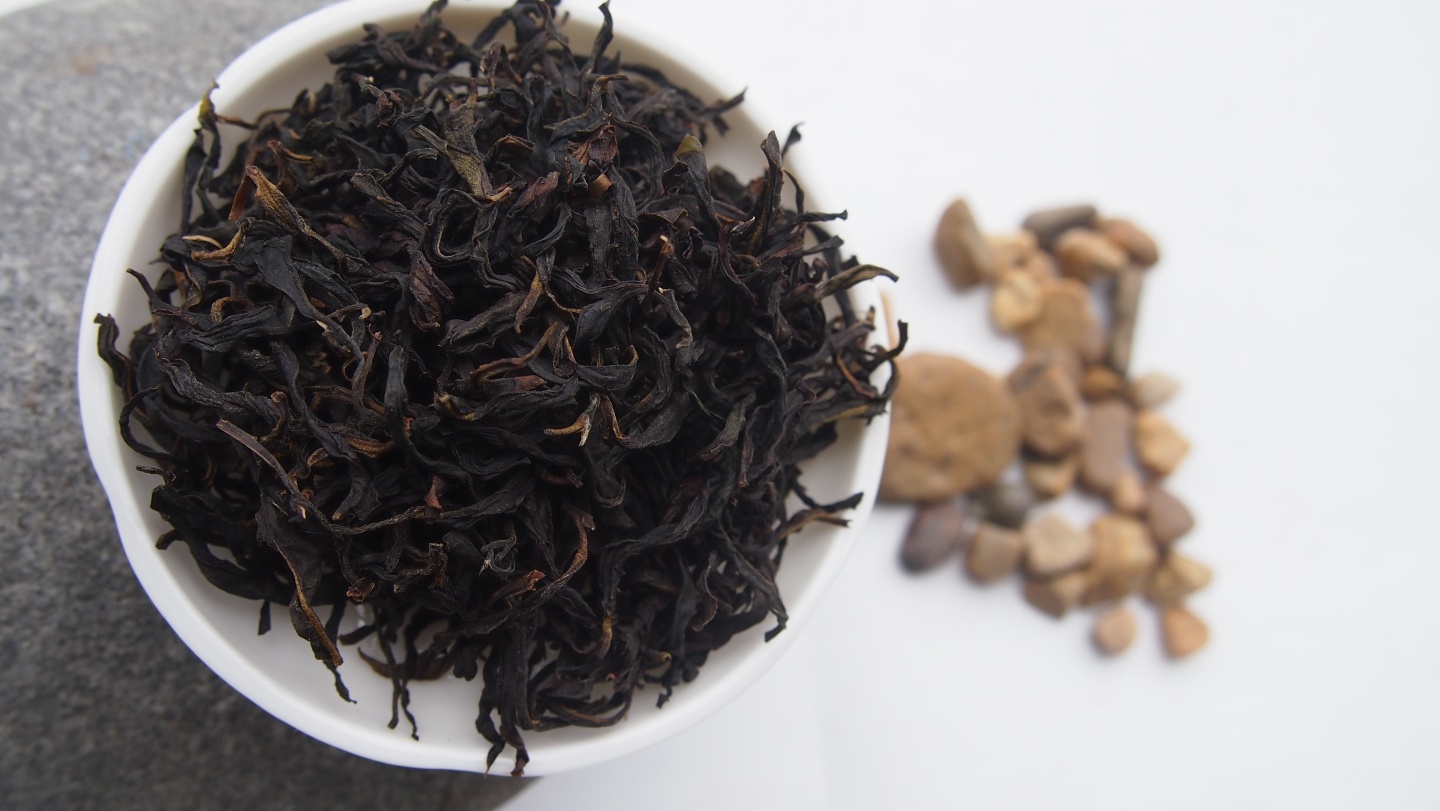 Origin
Feng Huang Dan Cong has a long history that could date back to 900 years ago. Actually, there are three types of Feng Huang oolong teas: Feng Huang Shui Xian, Feng Huang Lang Cai, and Feng Huang Dan Cong. Among which, Feng Huang Dan Cong is the highest class. Because this tea always originates from one specially selected plant, which must be harvested at specific time and exclusively on cooler, sunny days, in order to preserve its legendary aroma.
Mount Feng Huang, the original place for producing Feng Huang Dan Cong, is elevated from 350-1560 meters above sea level. The mountain region has a southern subtropical oceanic climate, which is mild and humid, with an average annual temperature of 21.4°C and abundant rainfall. High mountain, short sunshine, heavy cloud and rain, and mild temperature across the whole year, all these elements are very suitable for the growth of tea trees.
Additionally, the soil types are versatile in Chaozhou city, where the tea is produced. Yellow soil, red soil, latosolic red soil and paddy soil are all present. These soils are rich in organic matters and microelements, which could be metabolized and transpired by tea trees. As a result, a series of chemical reactions are transported to the buds and leaves through the leaves' tissues, thereby increasing nitrogen metabolites and playing a vital role in the formation of the specific aroma and flavor of Feng Huang Dan Cong tea.
Varietal and Aroma
Fruity, floral, tannic and super aromatic, Feng Huang Dan Cong tea has many pleasant qualities that are unparalleled by any other kind of loose-leaf tea. The tea leaves are large and stalky. The color is of dark brown with a slight hint of red. Once brewed, the liquid is clear and golden. The aromas are fragrant. The taste and texture are earthy and smooth.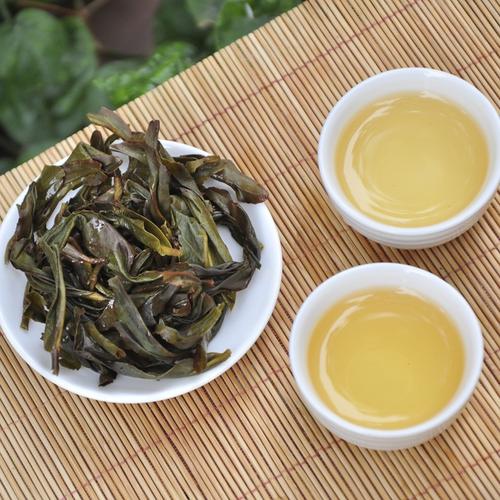 Single varietals of Feng Huang Dan Cong did not come around until the 1980s. Through selective farming, the tea farmers were able to distinguish and stabilize varietals through transplanting or cloning. Because varietal is a major factor in oolong teas' price and perceived quality, the tea named after the actual varietals are generally considered better than the ones named after its aroma. In all oolong tea regions, there are hundreds of varietals, here are some of the most common ones:
Ba Xian (Eight Immortals) Varietal
This is one of the most prized varietals of Feng Huang Dan Cong. Its subtle sweet floral aroma is crisp, with substantial long lingering tannins. When made well, this varietal also gives a passion fruit note.
Song Zhong Varietal
Descendants of the old tree that is rumored to be from the Song Dynasty. It's bold, blunt, floral with subtle herbal notes.
Zhi Lan Xiang Varietal
Named after an orchid, this varietal is elegant, with subtle fruitiness and bright metallic taste.
Bai Ye Varietal
Peachy and straight forward, this is one of the most common varietals.
Wu Ye Varietal
Wu Ye is grassy, refreshing with prominent floral notes.
Ya Shi Xiang (Duck Shit Fragrance) Varietal
The foul name, Ya Shi Xiang, is derived from a story that a farmer named this tea to prevent it from being stolen. Nowadays, Ya Shi Xiang is also named Silver Flower Fragrance. Ya Shi Xiang is buttery, bright, jasmine, and very aromatic with a pleasant sweetness.
Ju Duo Zai (Almond Fragrance) Varietal
Ju Duo Zai is special among Feng Huang Dan Cong varietals for its tiny fuzzy leaves and nutty flavor.
Mi Lan Xiang (Honey Orchid) Varietal
The tea is named not after the sweetness people usually associate with honey, but the waxy weighty notes farmers associate with honeycomb, or the flavors of sweet potato.
There are ten signature fragrances of Feng Huang Dan Cong, which are Huang Zhi Xiang, Zhi Lan Xiang, Mi Lan Xiang (Honey Orchid), Gui Hua Xiang, Yu Lan Xiang, Xing Ren Xiang (Almond Fragrance), Ye Lai Xiang, Jiang Hua Xiang (Ginger Flower Fragrance), Mo Li Xiang (Jasmine Fragrance) and Rou Gui Xiang (Cinnamon).
Processing
Feng Huang Dan Cong tea is known for its complex production methods. Meaning "single bush" in Chinese, Dan Cong tea is made of the tea leaves coming from the same tea tree, and method of tea making needs to be adjusted according to different seasons of spring, summer, autumn and winter. Thus, it is difficult to make this kind of tea in bulk. Here are some steps for processing.
Picking
Feng Huang Dan Cong uses tea leaves only, no buds. Out of all oolong tea categories, Dan Cong picks the youngest leaves when the bud has just fully opened up, which is called Xiao Kai Mian (small opening).
Wilting
The freshly picked leaves need to be sun wilted first. The time required of this step varies depending on the weather, generally ranging from 15 minutes to 2-3 hours. Once the leaves are silky and soft, they are moved inside to continue to wilt under shade and gently flipped occasionally.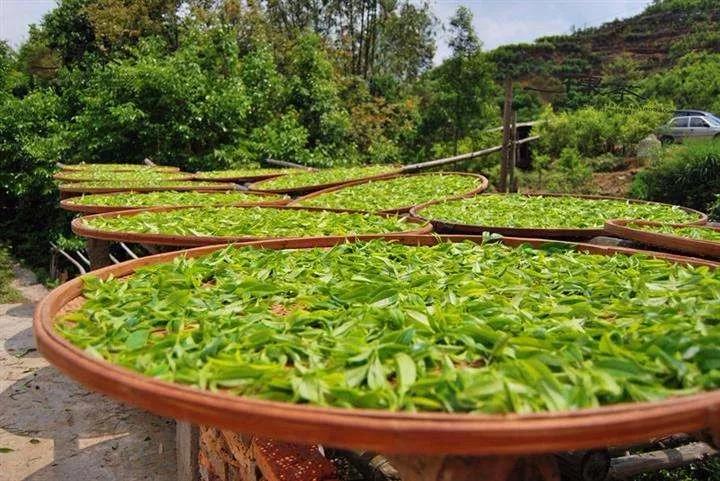 Tumbling
This is the signature step to making oolong tea, where the tea maker really shows their skill by regulating how the water travels from the stems to the leaves and out. It is traditionally done by shaking the leaves on a bamboo tray, but now commonly done with a tumbling machine. This step varies by tea and by the weather. It takes a thoroughly experienced tea maker to decide how soon and often to shake the tea. Usually the frequency is every 1-1.5 hours and repeat around 3-5 times.
Killing Green
After the tea has rested for a few hours to oxidize, the leaves are then transferred to a firing wok or machine to have all the residual enzymes killed.
Rolling and Baking
The hot teas are then transferred to a rolling machine to be rolled into string shapes and then spread out evenly onto baking trays to be baked dry.
Benefit
Health benefits of Feng Huang Dan Cong oolong tea include the reduction of chronic health conditions such as heart disease, inflammatory disorders,  and high cholesterol levels, high blood pressure, high blood sugar, while providing vital antioxidants, promoting superior bone structure, robust skin and good dental health. Oolong tea is fragrant with a fruity flavor and a pleasant aroma. Despite its caffeine content, it can still be extremely relaxing to drink. It is very good for detoxing, get rid of the toxins and fat out of the body. Also, it's very beneficial to the skin.
The health benefits of oolong tea are basically doubled because of the combined qualities of black tea and green tea. According to the Tea Association of the United States, oolong tea falls somewhere between green and black teas, as its leaves are only partially oxidized. Feng Huang Dan Cong is a great tea to keep calm and awake especially for those who cannot use green tea, which is too stimulating, or black tea, which causes dampness.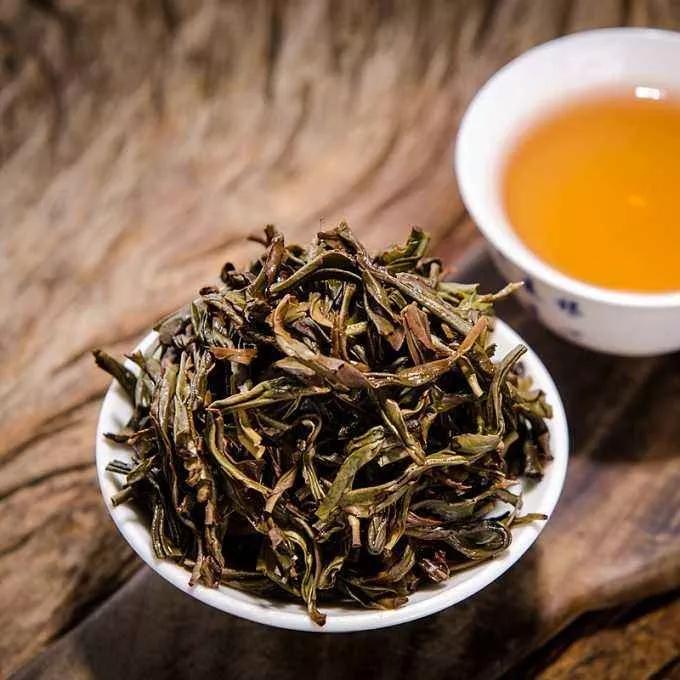 However, it can be a strong tea to some people so if you have not had much strong tea experience, increase your intake strength and quantity gradually and do not drink on an empty stomach. If you forget about this and over drink, you may experience tea drunk. If your tea experience is only beginning, a safe way to start experiencing this tea is to have one cup for a half day, accompanied by a cookie or any little bites. On the other hand, if you are a veteran, this really is a worthwhile tea to spend time and efforts to explore and understand.
Brewing
The best way to brew Feng Huang Dan Cong is Gong Fu Cha method, a famous tea brewing method that was born in Chaozhou city, where Mount Feng Huang is located.
The key to Gong Fu brewing is to use many leaves, little water and quickly brewing, either using a Gai Wan or a small teapot.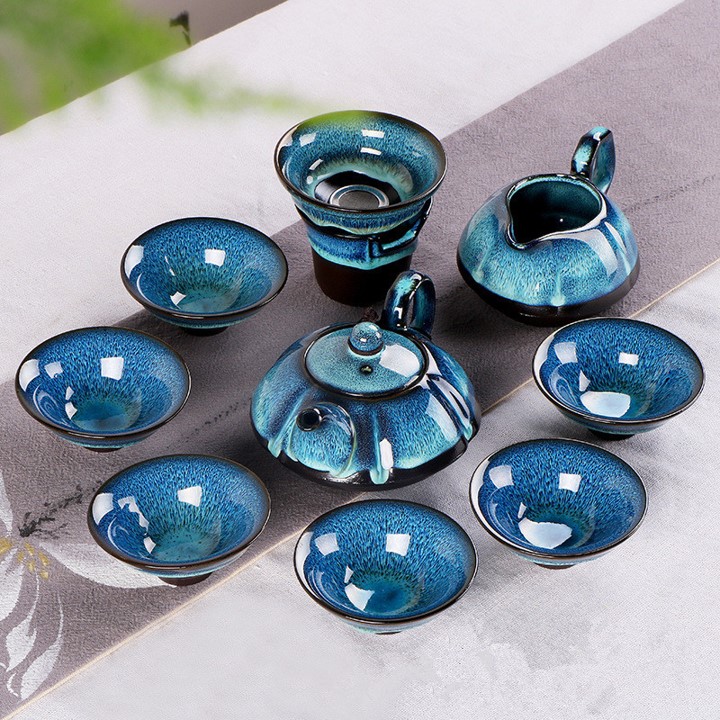 For a standard sized Gai Wan (around 150ml), the standard brewing dosage for Feng Huang Dan Cong is around 7 grams. Though generally fruity and floral, loose leaves of Feng Huang Dan Cong tea could become very bitter and tannic if stay with the water for a long time.
We recommend not to let the tea stay at all, instead, fill the Gai Wan with water and strain out with the liquor very quickly. Usually, the leaves can be re-brewed at least four times, and the brewing time can be increased by a few seconds with each additional brew.
(Visited 325 times, 1 visits today)