Le jardin de Monsieur Préfontaine
Voici l'histoire d'un jardin extravagant, gorgé de fruits, de fleurs, de parfums, de couleurs et de musique… La musique d'une petite fontaine qui refusa de se taire, même aux plus mauvais jours. Même lorsque Firmin, le propriétaire, affligé par le malheur qui frappait son jardin, laissa tout à l'abandon, la fontaine chanta encore. Elle chanta jusqu'à ce que renaissent l'espoir et le jardin. Alors, elle prit un peu de repos.
Je suis également auteure. Au tout début des années 1980, isolée dans un village en Gaspésie, j'ai peint les premières images et amorcé l'écriture d'un de mes futurs albums, Le jardin de Monsieur Préfontaine. Le livre parle de la blessure laissée par la perte du paradis. Après avoir perdu la fortune reçue en héritage qui lui permettait d'entretenir un domaine de beauté, Monsieur Préfontaine est obligé de trouver en lui-même les ressources pour le faire renaître. Il doit retrouver au cœur même de l'être, le jardin intérieur immortel et indestructible.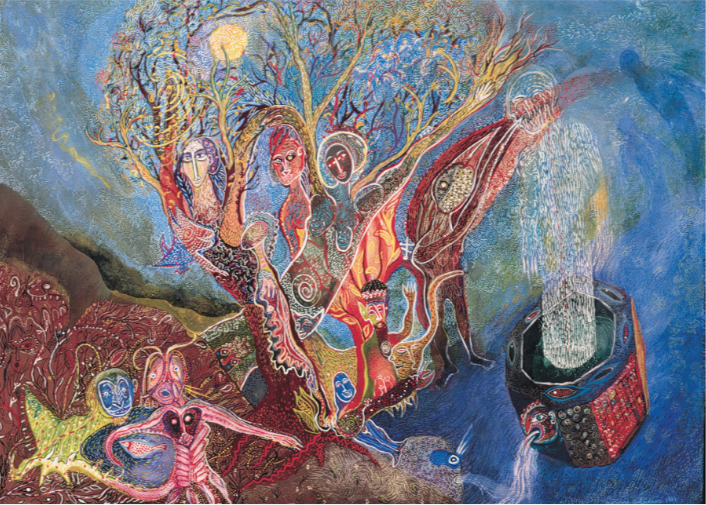 The garden of Monsieur Préfontaine
Here is the story of an extravagant garden, full of fruits, flowers, perfumes, colors and music … The music of a small fountain that refused to keep quiet, even in the worst days. Even when Firmin, the owner, distressed by the misfortune that struck his garden, left everything to be abandoned, the fountain still sang. She sang until hope and the garden were reborn. So she took a little rest.
I am also an author. In the early 1980s, isolated in a village in Gaspésie, I painted the first images and started writing one of my future albums, The garden of Monsieur Préfontaine. The book speaks of the wound left by the loss of paradise. After having lost the fortune inherited which allowed him to maintain a field of beauty, Monsieur Préfontaine is obliged to find in himself the resources to revive him. He must find in the very heart of being, the interior garden immortal and indestructible.